Seed Spark Program : Cohort 06
WEneurs Forum in collaboration with Stanford Institute for Innovation in Developing Economies (Stanford Seed) invited applications for Seed Spark Program Cohort 06 for empowering the early-stage entrepreneurs in traction or growth stage. 
Seed Spark is a 05-months long online entrepreneurship program offered by Stanford Seed to help entrepreneurs running early-stage start-ups in the growth stage with tools to build their strategy, grow their network, and ultimately boost their business acumen. Spark program offers 1:1 mentorship support to eligible Spark entrepreneurs.
The program duration: 15th February 2023 to 31st July 2023. 
The Seed Spark 06 cohort is recently launched on Feb 15th, 2023, with 110+ entrepreneurs running early revenue stage start-ups participating from India, Pakistan, and Nepal.
Please mail to manager.weneursforum@gmail.com for more details and any queries.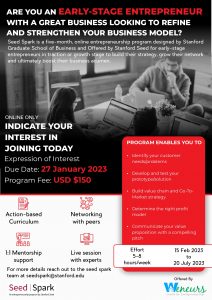 Selected startups for Seed Spark 06 Cohort.
ThinkRaw India Pvt. Ltd (Dhivara Mitra)

Brookshire Private Limited (SleepLabs)

Mamily Technology Private Limited (Mamily)